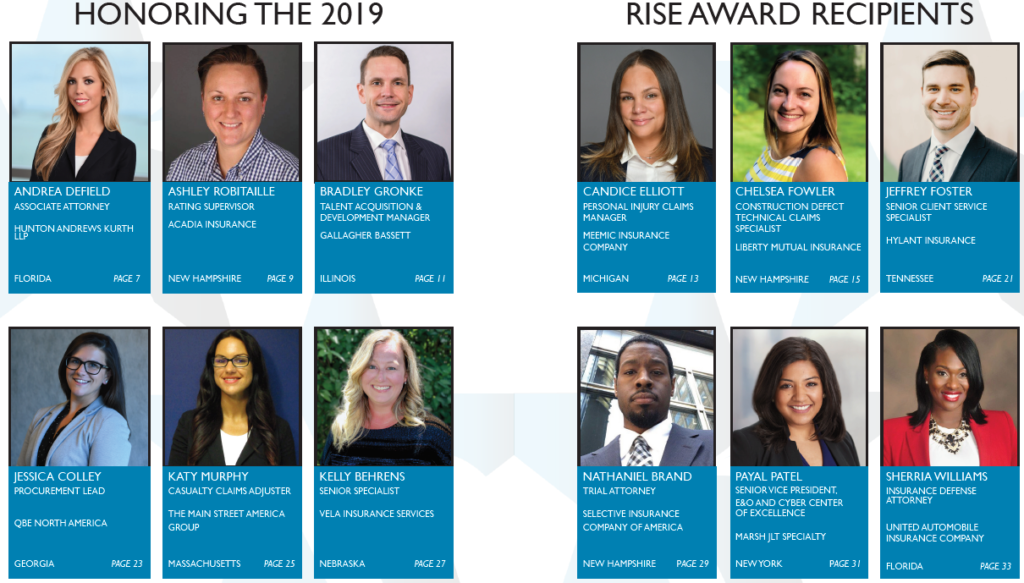 Announcing the 2019 RISE Award Winners (alphabetical):
Andrea DeField, Hunton Andrews Kurth LLP
Ashley Robitaille, Acadia Insurance
Bradley Gronke, Gallagher Bassett
Candice Elliott, Meemic Insurance Company
Chelsea Fowler, Liberty Mutual Insurance
Jeffrey Foster, Hylant Insurance
Jessica Colley, QBE North America
Katy Murphy, The Main Street America Group
Kelly Behrens, Vela Insurance Services
Nathaniel Brand, Selective Insurance Company of America
Payal Patel, Marsh JLT Specialty
Sherria Williams, United Automobile Insurance Company
Congratulations to All!
Click through the above digital magazine to view a full list of the winners, a special feature on each, and articles featuring top executives from companies like Markel, QBE, Hanover, and others:
Taking Charge of Your Career
Lessons on Serving as a Great Mentor
Personal Sustainability for Today's Insurance Professional
What Is Your Plan For Change?
The Path Well Chosen
... and more
Want to request a printed copy?
Fill out this form to be mailed an official 2019 RISE Award Magazine featuring the winners and articles by top industry executives.
About the RISE Awards
The annual RISE Awards showcase the top rising stars in the insurance industry who show leadership in their organization, community, and a commitment to advancing the industry. To be eligible, nominees must be under 40 years old OR have less than 10 years of industry experience.
RISE considered all details provided in the nomination, their supervisor references, and additional supporting documentation. Sponsorship or membership does not contribute to selection, only applicant merit. Nominations were reviewed and considered by participating board members to produce a final selection.
Read more about the award selection process in the above digital magazine or download it here.