Announcing the 2020 RISE Award Winners: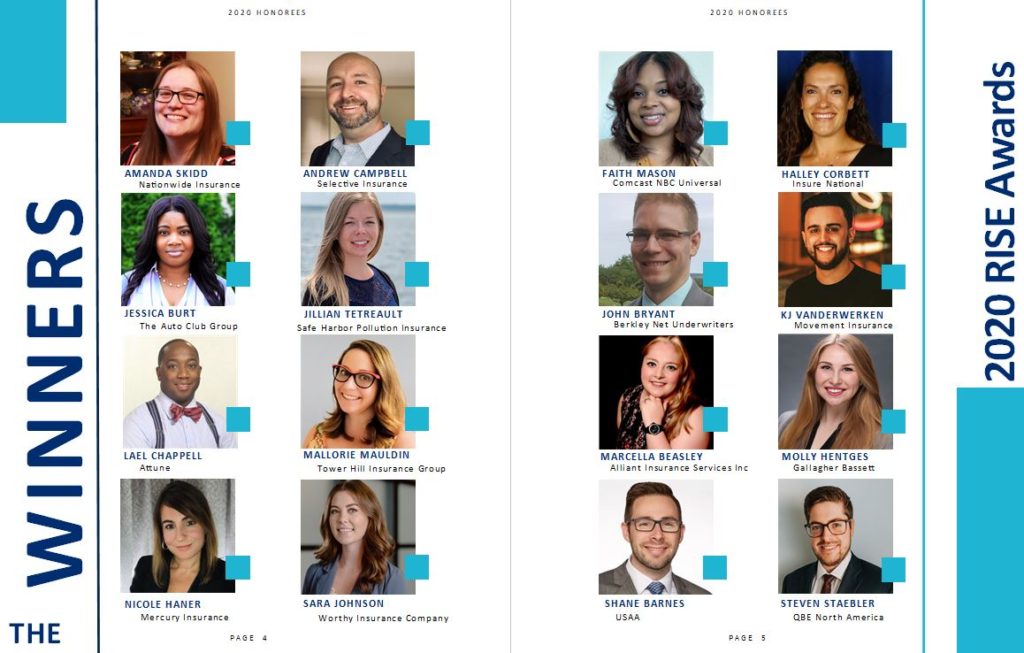 Amanda Skidd, Nationwide Insurance
Andrew Campbell, Selective Insurance
Faith Mason, Comcast NBC Universal
Halley Corbett, Insure National
Jessica Burt, The Auto Club Group
Jillian Tetreault, Safe Harbor Pollution Insurance
John Bryant, Berkley Net Underwriters
KJ VanDerwerken, Movement Insurance
Lael Chappell, Attune
Mallorie Mauldin, Tower Hill Insurance Group
Marcella Beasley, Alliant Insurance Services Inc.
Molly Hentges, Gallagher Bassett
Nicole Haner, Mercury Insurance
Sara Johnson, Worthy Insurance Company
Shane Barnes, USAA
Steven Staebler, QBE North America
2020 Mentor of the Year:
Caryn Siebert, Gallagher Bassett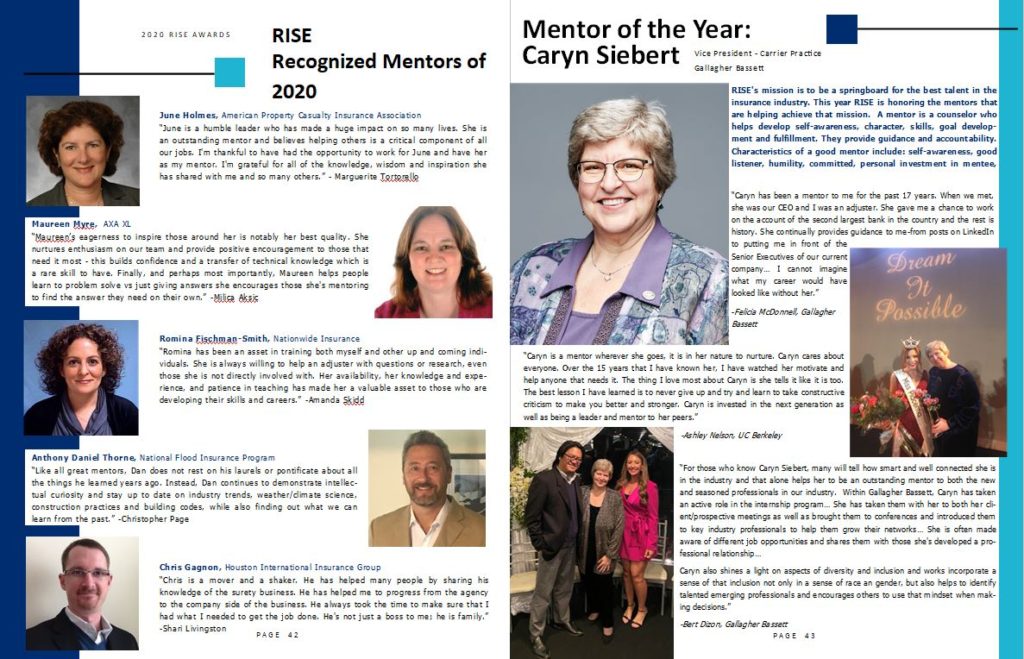 RISE Recognized Mentors of 2020:
June Holmes, American Property Casualty Insurance Association
Maureen Myre, AXA XL
Romina Fischman-Smith, Nationwide Insurance
Anthony Daniel Thorne, National Flood Insurance Program
Chris Gagnon, Houston International Insurance Group
Congratulations to All!
If you have trouble viewing the above digital magazine,  Click Here to view the 2020 RISE Award Winners and Featured Articles and Content in an interactive PDF format.
Click through the above digital magazine to view a full list of the winners, a special feature on each, and articles featuring top executives:
Enough is Enough.. Now What? A Call to Leadership
Rise Up, Embrace Change & Innovate
The Critical Skill: Resilience
Supporting Young Insurance Agents Through Challenges
Be A Leader From the Start
Innovation Starts With You
Leading In Today's New World
5 Best Practices To Set Your Organization Up for Success With A Remote Workforce
10 Tips for a Successful Virtual Conference
... and more
Want to request a printed copy?
Fill out this form to be mailed an official 2020 RISE Award Magazine featuring the winners and articles by top industry executives. Due to work from home, we will not be automatically mailing the magazine to addresses on file. Please use this form to request your copy.
About the RISE Awards
The annual RISE Awards showcase the top rising stars in the insurance industry who show leadership in their organization, community, and a commitment to advancing the industry. To be eligible, nominees must be under 40 years old OR have less than 10 years of industry experience.
RISE considered all details provided in the nomination, their supervisor references, and additional supporting documentation. Sponsorship or membership does not contribute to selection, only applicant merit. Nominations were reviewed and considered by participating board members to produce a final selection.
Read more about the award selection process in the above digital magazine or download it here.
Why Mentor of the Year?
RISE's mission is to be a springboard for the best talent in the insurance industry. This year RISE is honoring the mentors that are helping achieve that mission.  A mentor is a counselor who helps develop self-awareness, character, skills, goal development and fulfillment. They provide guidance and accountability.  Characteristics of a good mentor include: self-awareness, good listener, humility, committed, personal investment in mentee, patience, and persistence.