Meet the RISE Team: Tori Snoddy, Director of Operations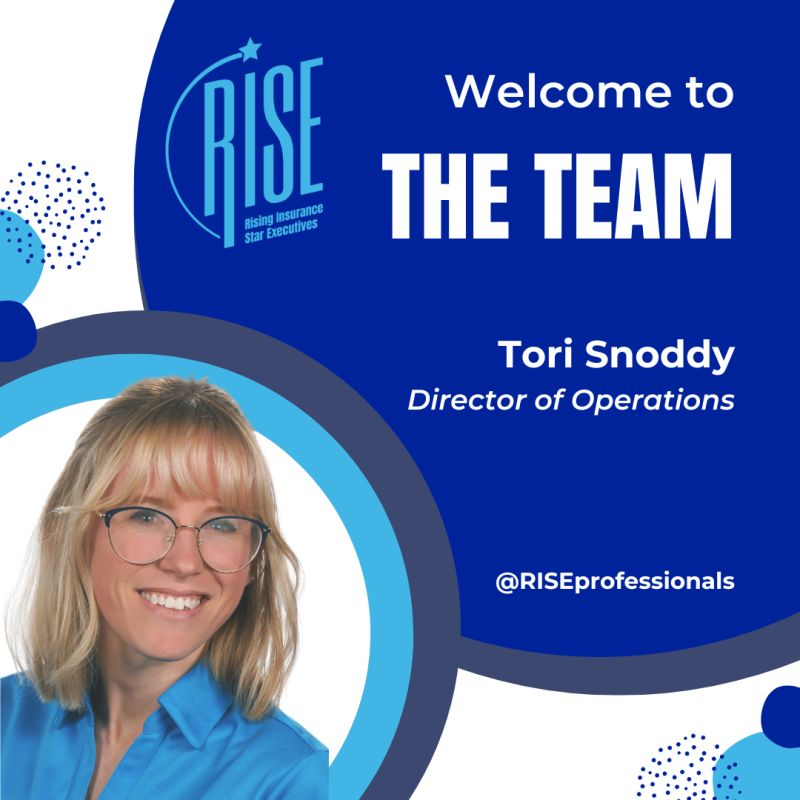 Why did you decide to join RISE?
We are constantly hearing about the talent crisis that the Insurance Industry is experiencing, and RISE is doing something about it. I joined RISE because I want to be part of the solution. I am passionate about supporting other young professionals with the resources and education that they need to excel in their career, and providing our mentors with pipelines for knowledge transfer to our next generation of leaders. I am constantly inspired by the awesome things our membership is accomplishing on the daily and it's been really rewarding to be a part of it. 
What are you excited about?
RISE has seen a ton of growth over the past year, from our first in-person event, to hosting our largest cohort in the Mentorship program. As the RISE network continues to expand, we have the opportunity to offer more resources to our young professionals. I am most excited to see impact that we are able to make on the industry as our organization grows!
Your role is Director of Operations. What's your vision for the future of RISE?
Through programs like the RISE Awards, Mentorship Program, and Elite 50 Internships, and through forming strategic partnerships with other industry organizations, RISE has been growing, recognizing and advancing the best young professional talent in the industry. In my role as Director of Operations I have the opportunity to expand our programs to a larger audience and become the premier Young Professionals in Insurance association!
Do you have a mentor or someone you want to mention who has helped shape your career?
If you told me 5 years ago that I would end up in the Insurance Industry, I might not have believed you. My background is in hospitality and restaurant management. Starting in this industry as a young professional myself, I was fortunate enough to experience the power of mentorship firsthand! I've had incredible mentors both within my organization and outside over the years, but I have to give special recognition to Amy Cooper, Founder & CEO of RISE, and Tina Pernie, Head of Strategic Partnerships at NARS for the growth opportunities that I have had under their mentorship.
Who should join RISE and how does someone get involved?
RISE is an amazing organization for young professionals who are looking for career advancement resources and opportunities. For those looking to get more involved, our committees facilitate many of the organizations' initiatives and are a great place to start. For those who are further along in your career, we have opportunities for you to educate, support and mentor the young professional community. Be sure to follow RISE Professionals on LinkedIn and subscribe to our newsletter to stay up to date!
https://riseprofessionals.com/wp-content/uploads/2022/12/image-300x300-1.png
300
300
Tori Snoddy
https://riseprofession.wpengine.com/wp-content/uploads/2022/06/Rise-Redesign-Logo-Blue_Website-Header-250x250-1.png
Tori Snoddy
2022-10-04 14:30:40
2022-12-14 19:35:29
Meet the RISE Team: Tori Snoddy, Director of Operations